BUTTERS AND HER BABIES – Saved by NJ Aid for Animals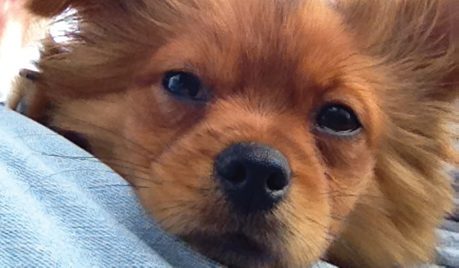 NJ Aid for Animals is always there 24/7. We work on holidays, weekends and evenings. Our all-volunteer organization works tirelessly because animals can't differentiate a holiday from a weekday or day from night. They need our help 24/7 which is why we need your help.    NJ Aid for Animals was there for Butters, Brie and Beans when they had hours to live.We received an urgent call from a NJ resident whose Pomeranian and two puppies were suffering from the contagious and fatal disease Parvovirus . He didn't want them.  NJ Aid for Animals raced to meet the owners and dispatched the pups to hospital. All three pulled through. The puppies found loving homes and mom, still a baby herself (pictured here)  is looking for her forever home.
Treating Parvo is extremely expensive and NJ Aid for Animals treats many dogs that would otherwise be put to sleep.  Your generous donations help us to help animals like these.
NJ Aid for Animals receives no government funding.  Of every $1.00 you donate, 92 cents goes right to the animals.  We have no padded salaries, expensive buildings or fancy cars. Our accomplishments speak for themselves on a budget of less than $90K a year.
NJ Aid for Animals needs your help to help us save lives. For almost a decade we have traveled to the most dangerous city in America, Camden, to help the under-served animals there sustaining ourselves by relying on generous donations from you.
Please consider a gift to NJ Aid for Animals before December 31. Your donation will be 100% tax deductible.
To read more about NJ Aid for Animals accomplishments, success stories and challenges click here

Lost No More"  - Microchip Program for NJ Aid for Animals
Camden County, NJ –   NJ Aid for Animals (NJAFA),  the leader in  innovative programs for underserved animals in Camden City, NJ has announced a new microchip program.
Dogs especially in Camden don't just become lost.  They are abandoned or dumped. If a dog is chipped, animal control will be able to identify who the culprit was and charge them….read more

How an ordinance saved 39 pit bulls
"Never doubt that a small group of thoughtful,committed people can change the world. Indeed, it is the only thing that ever has." ~ Margaret Mead
Most of us would like to change the world –or at least our little corner of it. For me, I want to help animals that have no voice. I became interested in township ordinances when I realized they could help further the mission of my organization, NJ Aid for Animals, Inc. (NJAFA), of preventing the exploitation and abuse of animals….click here to read full articile

PRESIDENT OF NJ AID FOR ANIMALS GETS CRUELTY CONVICTION ON PRIVATE CITIZEN
Too often humane law enforcement agencies fail to pursue justice or protection for abused and neglected animals. Private citizens can pursue such cases and need not stand by idly while animals suffer. One such case occurred in W. Atco, NJ. Click here to read full story.